While Jupyter notebooks are a great way to get started with the language, eventually you will want to use more powerful tools. Visual Studio Code (VS Code) in particular, is the most popular open source editor for programming - with a huge set of extensions and strong industry support.
While you can use source code control, run terminals and the REPL ("Read-Evaluate-Print Loop") without VS Code, we will concentrate on using it as a full IDE for all of these features.
To install VS Code and the Julia Extension,
First, ensure you followed the instructions for setting up Julia on your local computer.

In particular, ensure you did the initial VS Code setup

Install VS Code for your platform and open it
See the Julia VS Code Documentation for more details.
If you have done a typical Julia installation, then this may be all that is needed and no configuration may be necessary. However, if you have installed Julia in a non-standard location you may need to manually set the executable path. See here for instructions if it errors when starting Julia terminals.
Tip
"Open in Code" on MacOS and Linux VS Code supports the "Open with Code" action in File Explorer if chosen during the installation. This is convenient, but not necessary. To support it on MacOS you need to install a Automator script or separate package. Similarly, see here for support on linux.
While the general VS Code documentation is excellent, we will review a few of the key concepts directly. In addition, see here for other useful extensions when using VS Code not directly connected to these lectures.
10.1.1.

Optional Extensions and Settings¶

Open the settings with > Preferences: Open User Settings (see above for opening the command palette with <Ctrl-Shift-P>).

As a few optional suggestions for working with the settings,
In the settings, search for Tab Size and you should find Editor: Tab Size which you can modify to 4.

Search for quick open and change Workbench > Editor: Enable Preview from Quick Open and consider setting it to false, though this is a matter of personal taste.

If you are on Windows, search for eol and change Files: Eol to be \n.

While it is a personal taste, consider enabling the bracket colorizer by finding the bracketPairColorization setting.
A key feature of VS Code is that it can synchronize your extensions and settings across all of your computers, and even when used in-browser (e.g. with GitHub CodeSpaces). To turn on,
Ensure you have a GitHub account, which will be useful for further lectures

Choose Turn On Settings Sync... in the gear icon at the bottom of the screen
You can stick with all of the defaults, and read more in the instructions
10.1.2.

Integrated Terminals in VS Code¶

A key benefit of VS Code is that you can use terminals and command-line interfaces directly within the editor, and starting in the convenient location relative to an opened project.

Furthermore, in the case of julia (and other languages such as python) this will activate the project automatically. See the documentation for more details.

You can open the terminal panel with > View: Toggle Terminal , typing Ctrl+` , or by clicking on the list of warnings and errors bottom bar in VS Code. If no existing terminal exists, it will create a new one.
The documentation for the VS Code extension provides many examples:
In addition, there are excellent youtube videos about provide more background. For example, Package Development in VSCode shows advanced features.
Even if you are working primarily in .jl and/or Jupyter Notebooks in Julia, you will need to become comfortable with the REPL. We saw some initial use of this when adding packages and exploring the code above, but the REPL has many more features.
10.3.1.

Starting a REPL¶

There are several ways to start the REPL.
Within VS Code, executing code inline will start it as required.

In the command palette of VS Code, choose > Julia: Start REPL

Outside of VS Code, if julia was installed on your system path, you can simply type julia or with other options
The command line options for starting Julia are set to decent defaults for terminals running within VS Code, but you will want to set them yourself if starting the REPL otherwise.
As an example, the argument --threads determines the number of threads that Julia starts with. If starting julia on the command line without specifying any arguments, it will default to 1 (or check an environment variable). To have Julia automatically choose the number of threads based on the number of processors for your machine, pass the --threads auto argument.
Note
VS Code sets the number of threads automatically based on the number of cores on your machine, but the value can be modified in its > Preferences: Open User Settings and then search for Julia: Num Threads.
The most important choice is the --project toggle which determines whether you want to activate an existing project (or create a new one) when starting the interpreter. Since a key feature of Julia is to have fully reproducible environments, you will want to do this whenever possible.
To emphasize this point, this is an example of the ]st showing the global environment has only the bare minimum of packages installed. With this workflow, all other packages are installed only when a given project is activated.
(@v1.7) pkg> st
      Status `C:\Users\jesse\.julia\environments\v1.7\Project.toml`
[7073ff75] IJulia v1.23.2
[14b8a8f1] PkgTemplates v0.7.18
[295af30f] Revise v3.1.19

Note
A key difference between Julia and some other package managers is that it is capable of having different versions of each package for different projects - which ensures all projects are fully reproducible by you, your future self, and any other collaborators. While there is a global set of packages available (e.g. IJulia.jl to ensure Jupyter support) you should try to keep the packages in different projects separated. See the documentation on environments and the package manager for more.
If you start the terminal without activating a project, you can activate it afterwards with ] activate . or using Pkg; Pkg.activate().
To see this in action, within an external terminal we will open it using both methods, and then use ] st to see which project is activated and which packages are available.
First, with julia --threads auto we see that the globally installed packages are available at first, but that the existing Project.toml and Manifest.toml in that folder are chosen after we choose ] activate .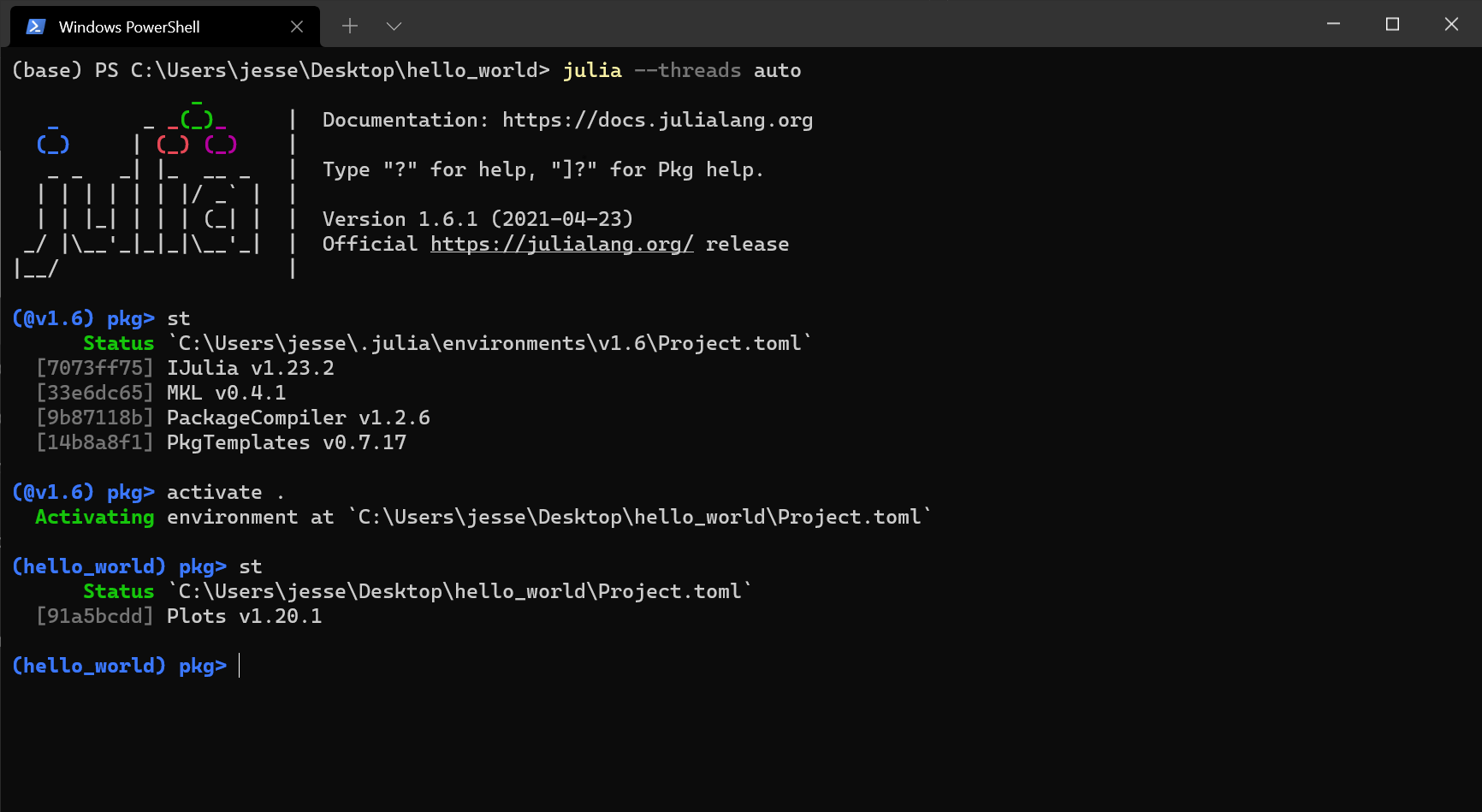 Next, with julia --threads auto --project the project is automatically activated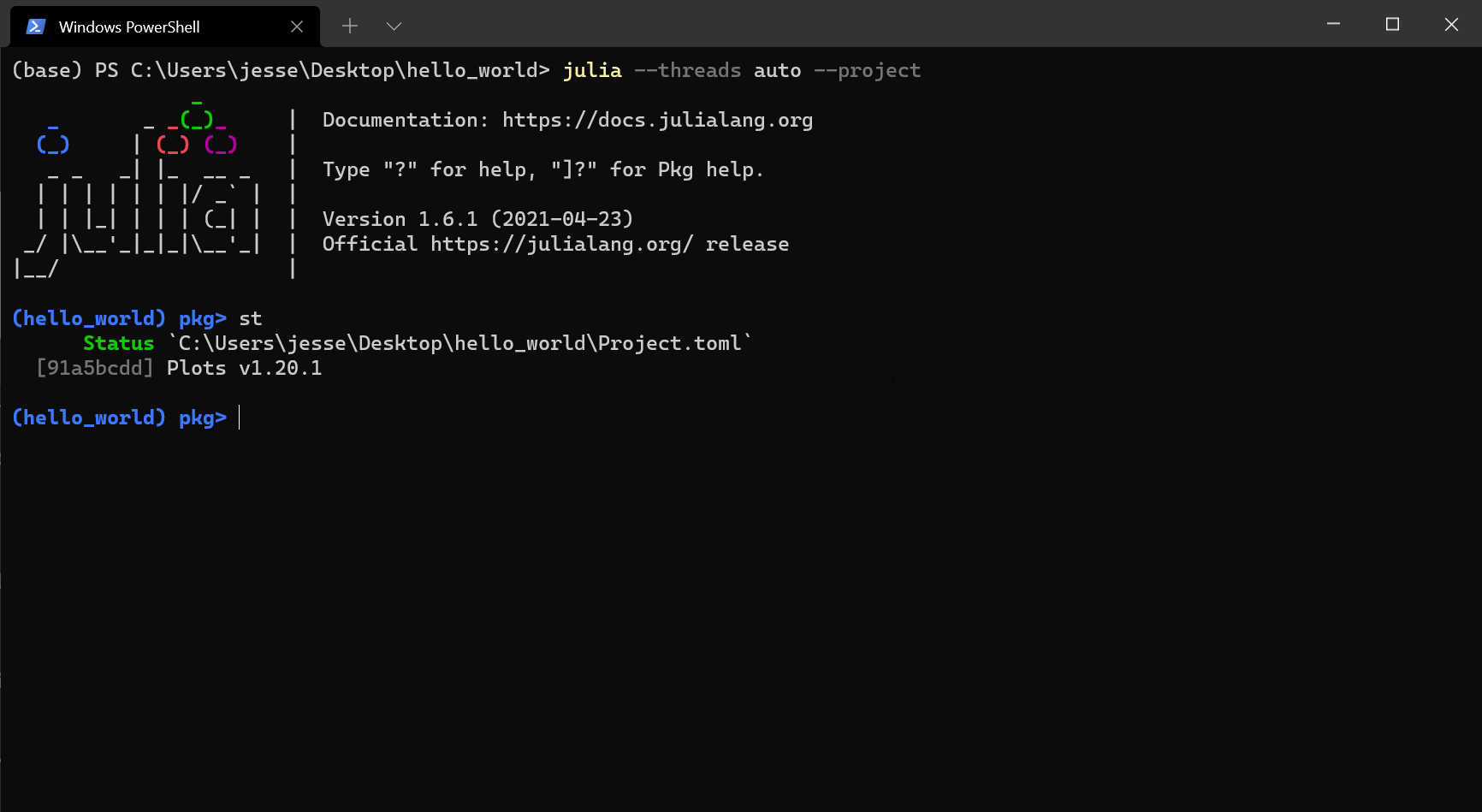 Finally, if you choose the --project option in a folder which doesn't have an existing project file, it will create them as required.
A few other features of the REPL include,
10.3.2.

More Features and Modes¶

Hitting ; brings you into shell mode, which lets you run bash commands (PowerShell on Windows)

In addition, ? will bring you into help mode.

The key use case is to find docstrings for functions and macros, e.g.
As discussed, the Julia package manager allowed you to create fully reproducible environments (in the same spirit as Python's and Conda virtual environments).
As we saw before, ] brings you into package mode. Some of the key choices are
] instantiate (or using Pkg; Pkg.instantiate() in the normal julia mode) will check if you have all of the packages and versions mentioned in the Project.toml and Manifest.toml files, and install as required.

This feature will let you reproduce the entire environment and, if a Manifest.toml is available, the exact package versions used for a project. For example, these lecture notes use Project.toml and Manifest.toml - which you likely instantiated during installation after downloading these notebooks.

] add Expectations will add a package (here, Expectations.jl) to the activated project file (or the global environment if none is activated).

Likewise, ] rm Expectations will remove that package.

] st will show you a snapshot of what you have installed.

] up will upgrade versions of your packages to the latest versions possible given the graph of compatibility used in each.
Note
On some operating systems (such as OSX) REPL pasting may not work for package mode, and you will need to access it in the standard way (i.e., hit ] first and then run your commands).
VS Code and the related ecosystem have an enormous number of features and additional options.
The following are some optional choices, not all directly connected to Julia.